Coach Brian Flores and the rest of the Miami staff have talked a lot this winter about how they want to be "multiple" on defense. How being able to change what you do on a week to week basis is their dream scenario, one they hope to see materialize on the field.
It's great in theory, right? Depending on opponent strengths, any team would love to run odd fronts, even fronts, nickel, two-gap concepts, penetration. But ultimately, a team would need quite an impressive set of defensive talent to successfully showcase and implement so many different philosophies on a single unit.
Ultimately, teams have to play what their players are capable of. What does that mean for Miami? The Dolphins will be challenged either way, barring hitting a home run in this month's NFL Draft. The team simply lacks the pass rush needed to shine in any alignment. But there are some pieces who would certainly benefit from one type of look more than another.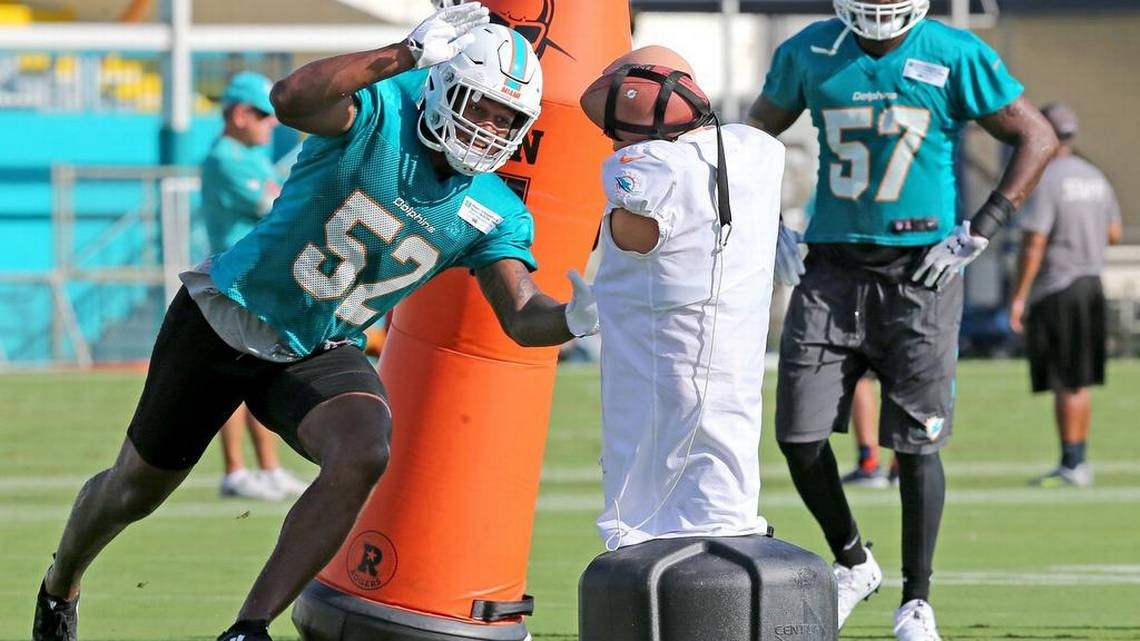 The group that comes to mind is the defensive interior of Vincent Taylor, Davon Godchaux, Raekwon McMillan and Jerome Baker. This group has the makings of a solid foundation of a base odd (3-4) front seven.
Neither Taylor or Godchaux are potent penetration players who will create the kind of havoc expected from a 3-technique in an even front (think Fletcher Cox and Geno Atkins). Neither is a physically overwhelming player in the A-gap as a nose tackle, either. But if you tasked them with playing "4i" alignment and stuffing up blockers in the B-gap, suddenly you're a stout nose tackle away from having a ton of run for your linebackers to run free.
Of course, this doesn't solve the pass rush dilemma, but that is a fight for another day.
With an odd front and three down linemen, Miami could flip flop McMillan and Baker to the open side of the field: McMillan's range is good, but he's best between the tackles.
Baker, on the other hand, has tremendous burst, range and pass coverage capabilities. Baker could handle zone coverage reps into the open field or be free to scrape cleanly because of the stout presence of both Taylor and Godchaux, provided Miami finds a nose tackle.
Missing from this equation? Kiko Alonso. The Dolphins linebacker had his moments (good and bad) in 2018. But he's also turning 30 prior to the start of the 2020 season, in which he carries less than $2M in dead cap space should the Dolphins decide they want to move on after this year.
Odds and ends from the ninth annual Dolphins Cancer Challenge, which drew 5,000 participants and raised an estimated $5 million for the Sylvester Comprehensive Cancer Center:
▪ Dolphins wide receiver Kenny Stills, who cycled the 14 miles from the team's training facility to Hard Rock Stadium Saturday, acknowledged he had some doubts about his future with the organization after seeing the team's roster upheaval this winter.
"Yeah, every offseason you kind of have those questions," said Stills, who is due $8 million in base salary in 2019. "You can get moved at any point. Definitely it came across my mind, people asking me about it, but like I said, all I know is I can handle myself, making sure I'm healthy, making sure I'm ready to play. I haven't played my best football yet."
Stills caught just 37 passes for 553 but did have six touchdowns in 2018. His cap number is $9.8 million, of which the Dolphins could save all but $3.3 million by cutting him.
Assuming he does return for the 2019 season, Stills will catch pass from a new quarterback (Ryan Fitzpatrick) called in by a new coach (Brian Flores) and offensive coordinator (Chad O'Shea).
"We still a lot of roster spots open," Stills said. "I have faith in coach and Chris [Grier] to make sure we get the guys we need to win."
"I don't believe anyone in our organization likes using that word or that term or even talking about it," Stills said. "We're not preparing to lose games. [Flores] is going to continue to set the standard for us and I look forward to playing with him."
Added McMillan: "I've never went on the football field and told myself we're trying to lose this game. I don't know where all that talk is coming from. As a team, we're going out there and trying to win some ball games."
▪ Curious about where McMillan will line up in the new Dolphins' defense? The mystery will last at least a few weeks longer, as McMillan shed no light on the subject Saturday. He presumably will be assigned one of the inside linebacker spots in a 3-4, but the Dolphins plan to use multiple formations, and how they deploy McMillan — now entering his third season — is a fascination.
"All the coaches are going to put me in the best position possible to make plays," McMillan said. "And they're going to use all the players that we have to put in the best position possible to play defense. … Whatever my coach asks me to do, I'm going to go out and do it."
Logic suggests we will see the best version of McMillan yet this fall. For the first time in his career, he has a full offseason to prepare for the season. He was still rehabbing from major knee surgery this time last year.